Welcome! Here are the website rules, as well as some tips for using this forum.

Oil Boiler cycling on and off - short cycling?
Hello:
I feel kinda stupid asking, but is the operation of the Weil-McLain boiler that is described below and shown in the linked video normal? Is this "short cycling"?
Aside from the general concept behind their operation, I don't know a great deal about boilers but the motor was changed yesterday and I am wondering if the constant on/off cycling is what caused the old motor to fail (and I'm afraid it could burn out the new one).
Some background: It is a Weil-McLain boiler for a baseboard heating system that heats two zones—upstairs and downstairs (the hot water is on a separate propane system). I noticed a few weeks ago the boiler seemed like it was cycling on and off too often. Then, a few days ago, the boiler stopped working altogether with Red Light on. I did two Resets about 10 minutes apart using the red button but it wouldn't start. So I called a Tech and he said motor was dead and replaced it. But it still seems to me like it's cycling on and off too often.
In the video, the boiler is running when I started recording, then stops, starts, stops and starts again, but multiply this by 50 or so times since it does it throughout the day whenever the t-stat is calling for heat. Sometimes the boiler will run for an extended amount of time without any issue and it will bring the house up to temp. The cycling does seem worse in the morning when the house is cold.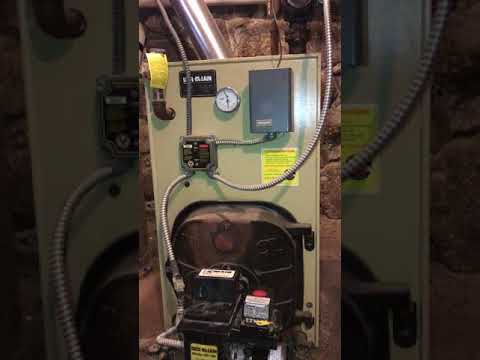 https://youtu.be/RabhIr6BZdE
A couple other pieces of info: a new expansion tank was installed in Dec 2017. Also (and this is just annoying but maybe it's related) the downstairs thermostat is way off in terms of the actual temperature in the room. The stat will read 61 when it's actually 67 or 68 in the room.
I haven't tested this, but I feel like the cycling issue occurs only when the downstairs t-stat is calling for heat. Is it possible the short cycling (if that's even what is happening here) is a result of a defective t-stat calling for heat too often/too little/too sporadically?
I guess I could test this by basically turning the downstairs zone t-stat way down and turn the upstairs t--stat up and see if when the upstairs calls for heat the cycling issue does or does not occur. Maybe I'll try and test this sometime in the next day or two but would like to know, firstly, if what is happening in the video is actually abnormal.
Any thoughts would be much appreciated and please feel free to ask for any clarification since I don't know what the heck I'm talking about.
Best, James
Comments