Welcome! Here are the website rules, as well as some tips for using this forum.

one hot water tap running cloudy white
it seems to be mostly air, but it is the tub filler with no aerator and the cold does not do it, nor any other hot water taps. It's enough to be noticeable in the stream of water running from the tub which caused the tenant to call. Run into a jar It looks almost milky and then slowly clarifies from the bottom up leaving no apparent suspended solids or precipiate. seems like some kind of micro air bubbles. The tub spout is fed by an old (50 year) twin handle set that is separate from the shower valve although the shower water runs through the brass body at the back of the tub valve set.
Took the stem out and no obvious corrosion or particulates in the assembly. The tenant now thinks they smell something when the shower is on although you don't get the same cloudiness if you capture the shower water and this is an urban water system where the water smells like chemicals to me anyway since i have untreated well water. But there is nothing like it happening at any other spigot or faucet throughout the house.
I just am not sure how to explain or mitigate the effect. I have seen mildly similar if markedly less complete effect filling a glass from a faucet with an aerator but I really don't know what i'm dealing with.
This is the link to a youtube we made of filling a jar and waiting for it to clear which shows the cloudiness and the slow clarification from bottom to top of the jar: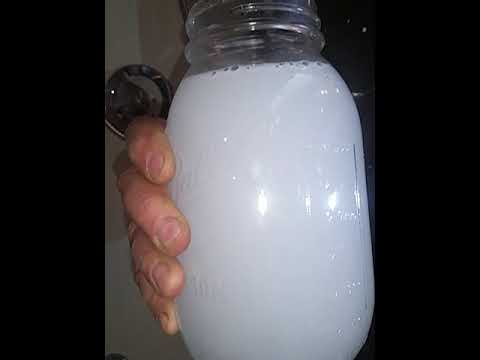 https://www.youtube.com/watch?v=Kje9c7xjLM0
thanks for throwing spaghetti at this wall - hope something will stick.
brian
Comments