Welcome! Here are the website rules, as well as some tips for using this forum.

Nobel Combi install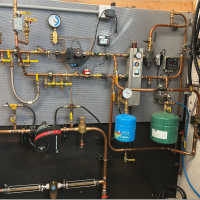 I upgraded the system at my place this weekend. This is a 110,00 fire tube combi. Dhw is via a plate HX inside the unit. 10-1 turn down a smooth quiet running combi.

The 6 gallon tank is a sep and a small buffer. I added a 240V 4.5 KW element for dual fuel, as I have run out of LP a few times over the years.

I have a solar pre-heat tank so plenty of DHW and the unit does not fire when the solar tanks sends 120F over to the boiler.
Bob "hot rod" Rohr
trainer for Caleffi NA
Living the hydronic dream
Comments