Welcome! Here are the website rules, as well as some tips for using this forum.

Radiator renovation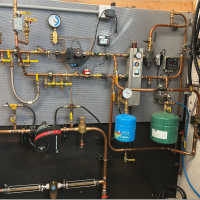 I filmed a video this weekend of a "cut and collapse" nipple extraction.
Here is the tube radiator ready for infrared testing. The base of this radiator has a bunch of baffles cast it, probably to even the steam flow to all the tubes.
I was able to thread a piece of 1/2 pex to the far end to see how well this conversion valve works.
Bob "hot rod" Rohr
trainer for Caleffi NA
Living the hydronic dream
Comments