Welcome! Here are the website rules, as well as some tips for using this forum.

corner radiator infrared view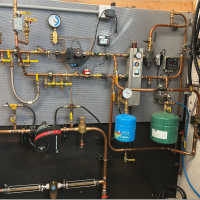 This is a 22 section L shaped radiator. I supplied it with 120F, at 1 gpm. Supply from bottom right, return bottom left.

Starting at about 70F, I heated it for 40 minute, pic at 5 minute intervals.

I was surprised to see how it warmed from top down even with S&R at the bottom connections.
Bob "hot rod" Rohr
trainer for Caleffi NA
Living the hydronic dream
Comments