Welcome! Here are the website rules, as well as some tips for using this forum.

air to air HP question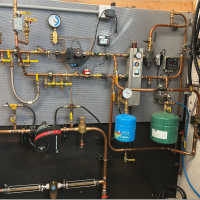 I installed a new Goodman HP in office/ shop this summer. A friend that is an HVAC tech did the install and fired it up for AC.

I had him add a HW coil with the unit and I can supply that from the wood boiler or the Phoenix LP fired unit.

I want to add an outdoor thermostat to enable the HW coil.

1) at what temperature do you switch the HW coil? I've heard anywhere from 0- 20F.
2) when I switch to the HW coil should the compressor power be interrupted? Or should the compressor run when back up HW coil is running?


Bob "hot rod" Rohr
trainer for Caleffi NA
Living the hydronic dream
Comments