Welcome! Here are the website rules, as well as some tips for using this forum.

Piping methods of EC variable speed pump and zone valves
Hi Everyone. I am new to this forum, but need some help with a hydronic heat system. I have just moved into an older house from the 1920s in June, 2015. The house has been in my wife's family since 1945. The heating system was a pieced together hot-water baseboard system fed by an old coal fired Axeman Anderson, and then a back-up Burnham MPO-84 was added a few years ago. The house sat vacant for a few years, and when I went to fire up the system, we found holes in the baseboard every 4-6 feet (after finding 10 leaks I stopped). So we decided to abandon the base-board system and come up with a new solution. I had 5 different contractors come and give quotes and feedback on the best solution. There were lots of discussions on heat-pumps and forced hot air, but at the end we decided for now to utilize the existing Burnham boiler, and add all new items downstream of it and utilize under-floor, in-joist hydronic. I have a fairly high mechanical/electrical background and aptitude, and have some general contractor relatives who can provide some labor. However, 2 of the main contractors would only do "completely new and fully installed", so they were out of the picture (plus they were 6-9 months out, and the price was a no-go). I found 2 contractors who have been in the business for 30+ years and would help; one will do the boiler hook-up, and the other does traditional hydronic (1 Taco 007 per zone...). I have been provided 3 different heatings loads on the house (they were within 5% of each other), so we used that to design the under-floor piping selection and layout. We have split the heating area (all on one floor) into 3 different zones, and the Pex-AL-Pex and transfer plates are already installed.
I am stuck at the correct plumbing/piping configuration and controls for a system like this. I have read through (and talked to a few contractors) all the discussions on 1 pump per zone, or 1 pump per system + zone valves, P/S loops, etc., and have really run out of time to figure this out. While I have a pellet stove that we are using for heat, I really need to get this system up and running before winter sets in.
What I would really like to do is use 1 Alpha EC variable speed pump, and then 3 zone valves for the floor heating. I also am planning to install a Burnham AL-50-SL indirect water heater, fed from a Taco 007 pump. Because I need the water temperature to the heating zones to be less than the boiler feed (designed for 180deg boiler water, and 120 to the heating zones), I know I need some type of mixing valve.
Can I just use a thermostatic 3-way mixing valve, or do I need some type of modulating/electronic mixing valve?
Here is a schematic of the system I would like to install.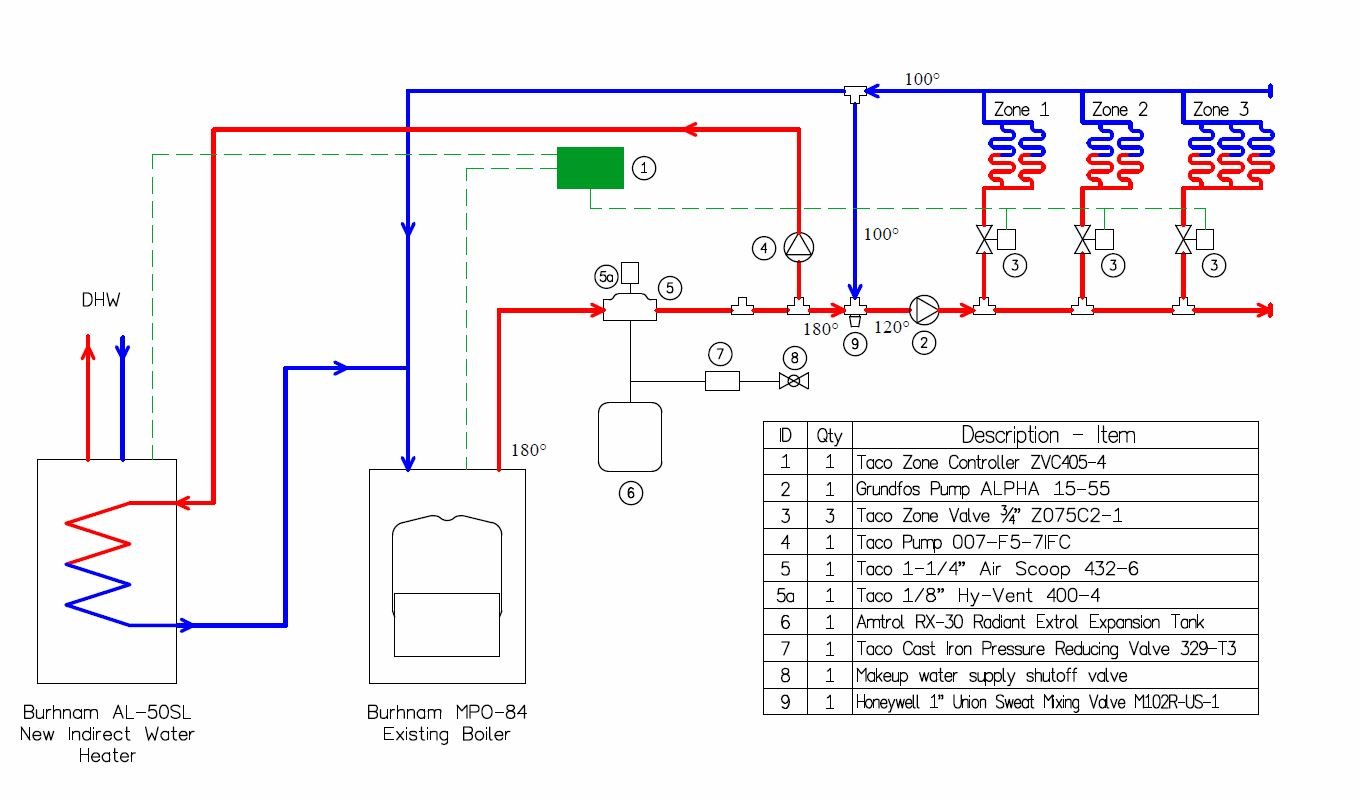 Comments