Welcome! Here are the website rules, as well as some tips for using this forum.

Dwyer Slacktube lost water?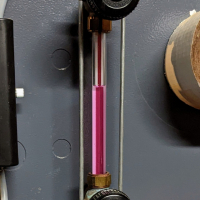 I'm really confused right now.
I bought a 16" (8 + 8) Dwyer slacktube back in January and filled it with the proper amount of distilled water and green dye. After using it I closed the two valves on the tube and put it away in it's case until this week. Somehow, it's lost several inches of water and yet I see absolutely no evidence of leakage. The case and papers are spotless as is the tube it self.
How can water evaporate from a sealed plastic and rubber tube?!!?!
Has anyone else experienced this?
Single pipe quasi-vapor system.
Typical operating pressure 0.14 - 0.43 oz.
EcoSteam ES-20 Advanced Control for Residential Steam boilers.
Rectorseal Steamaster water treatment
Comments