Welcome! Here are the website rules, as well as some tips for using this forum.

Pump head calculation comparison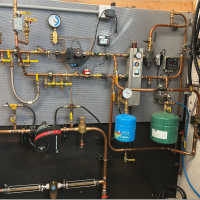 Assume a circuit with a developed length of 100 feet of 3/4" copper tube, AWT 140F, flow rate 5 gpm.

Using the formula in Idronics 16, we come up with 4.93 feet of head.

Using the Sizer wheel it shows just over 8 feet.

The Taco calc formula shows 3.7, they solve the 1.75 factor and show that number in table 5, making the math simpler without a scientific calculator, nice!

Even with a temperature change to 180F in the formula, still quite a bit of spread?
Am I missing something, or is there that much "slack" in the System Sizer number?
Bob "hot rod" Rohr
trainer for Caleffi NA
Living the hydronic dream
Comments