Welcome! Here are the website rules, as well as some tips for using this forum.

Going commando!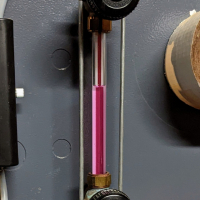 So,
After talking with
@MarkS‌
I decided to try an experiment to see if my theory is right regarding not needing a pig tail.
I built this setup and so far the pipe towards the gauge stays ice cold and the only heat there is from the metal conducting heat from the block.
I plan on running it this way for a while before doing anything permanent and of course the pressuretrol will remain on a pigtail no matter what.
As far as why do this? Because my theory is because air cannot escape steam cannot enter and without the huge slug of water in the pipe the low pressure gauge should be far more accurate and responsive.
For now, I'm keeping the valve off until I have more proof that it will indeed stay cool.
Single pipe quasi-vapor system.
Typical operating pressure 0.14 - 0.43 oz.
EcoSteam ES-20 Advanced Control for Residential Steam boilers.
Rectorseal Steamaster water treatment
Comments