Welcome! Here are the website rules, as well as some tips for using this forum.

Fixing a noisy steam pipe (expansion noises).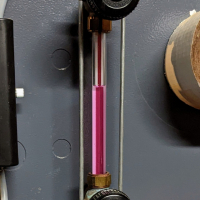 I made up another plastic bushing to stop a pipe from making noise. Not sure why this pipe suddenly became noisy this year but it probably has to do with things shifting a little from me messing with them. The pipe was rubbing on the floor on one side and nothing I tried made it any better.

I make these out of 1 gallon plastic water jugs. I cut a few slits on one side to make it so I can screw it or staple it to the floor in the basement / crawlspace. If not anchored I've found they usually slowly walk back out of the hole. This one was in a pretty tight spot and the floor is pretty boogered up around the pipe for some reason so the job looks crummy but should work fine just the same.

The reason this works is the plastic allows the pipe to glide smoothly and quietly rather than stick and jump against the wood which results in loud popping as the pipe heats and cools.

This is in no way my idea but I wanted to pass the information on with pictures in hopes to help other members. I have not tested this specific one yet but others I have done have always worked.


As always all comments and questions are welcome.
Single pipe quasi-vapor system.
Typical operating pressure 0.14 - 0.43 oz.
EcoSteam ES-20 Advanced Control for Residential Steam boilers.
Rectorseal Steamaster water treatment
Comments