Welcome! Here are the website rules, as well as some tips for using this forum.

A small creation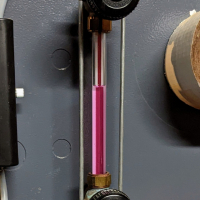 <strong>Of course, I do not recommend ANYONE build this unless you know what you are doing as a mistake could result in fire or death. While I am considered a homeowner on this forum I am an electronic technician by profession.



</strong>

On weekends we stay in a small hunting cabin near my parents house.  Of course, the building doesn't have central heating or plumbing for that matter.  Luckily its just a small walk to the house for a shower and to use the bathroom.



After a few holidays I got tired of how the oil filled electric radiators worked.  As many may know these units have a 600W, 900W and a 1500W setting.  They also have a thermostat which does nothing other than control the temperature of the heater it self.



I originally was suppose to build this for my dad while he stayed in the cabin while building the house.  Of course it got put off and put off until things settled down and I ended up being the one in the cabin occasionally.

While some may think its dangerous, I would have to disagree as the heater is not modified in anyway.  The small unit has a 24V Hammond 2A transformer which drives a Potter and Brumfield 25A DPDT relay which is connected via 18AWG wire.  I connected it with the hot via one contact and the neutral through the other.  Grounds are of course bonded together including the aluminum case.  The orange cords are a 12AWG extension cord I cut up to build the unit.  Originally this cord was around 100ft long but I trimmed it down to around 10 feet long just so I could move things around.





This unit kept the cabin a perfect 65F while we were there.  I had one heater set to 900W and its tstat all the way up while this unit controlled another heater set to 1500W and maintained temperature.  Outside temperature was 15-19F at night depending on the day.



Obviously, electric baseboard as a perminant installation would be nice, but thats not happening for a while.  I was able to build this with stuff I had on hand so price out of pocket was zero.
Single pipe quasi-vapor system.
Typical operating pressure 0.14 - 0.43 oz.
EcoSteam ES-20 Advanced Control for Residential Steam boilers.
Rectorseal Steamaster water treatment
Comments
This discussion has been closed.