Welcome! Here are the website rules, as well as some tips for using this forum.

main vents vs electrical outlet and romex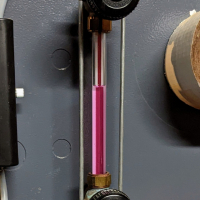 I'm running a new 20A 120V circuit for an air conditioner and have to run the romex near 3 of my main vents.  I also need to put in a junction box which I'm probably going to put an outlet in as I could use one occasionally in the crawlspace.



So my question is, are there any code requirments when it comes to running romex or installing an electrical outlet near steam vents?  The romex is around 6-10 inches from the vents and the outlet will be about a foot from them.  I was also planning on installing a GFI there as it just seems like a good idea as it is in a damp location.  The current vents are  3 Gorton 1s and are aimed away from the romex and outlet and both romex and outlet are to be nailed to floor joists overhead which are around the same elevation as the vents.



It appears romex insulation is rated to around 90C which is lower than the temperature of steam.
Single pipe quasi-vapor system.
Typical operating pressure 0.14 - 0.43 oz.
EcoSteam ES-20 Advanced Control for Residential Steam boilers.
Rectorseal Steamaster water treatment
Comments
This discussion has been closed.