Welcome! Here are the website rules, as well as some tips for using this forum.

LWCO tripped AFTER burner shuts off?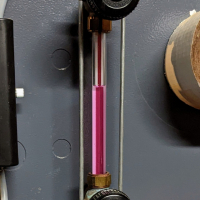 WM EG-45 on single pipe system with 372 sqft of radiation. Thermostat is VP8000 series.  No water feeder, manual feed only.



A few times now I've been awake to watch my system during a 3 degree recovery in the morning (66F to 69F).  Pressure stays very low and system runs nicely, sadly the clicking and klacking of the Hoffman 1As is what wakes me up rather than the heat.



Water level ends up pretty low in the gauge glass, maybe 1/2" high visible at times which is still considered safe in this boiler.  As soon as the burners shut off due to the thermostat being satisfied I appear to get a pretty decent vacuum in the system and the water level drops low enough the gauge glass empties and the LWCO trips (probe type).  It takes a good 5 minutes for the water to return enough to satisfy the LWCO.  Water level returns to normal after 10 minutes give or take.





I'm assuming this doesn't seem to matter as the LWCO is not tripped until AFTER the burners shut off, but my concern is, is this normal?  Should I care?  Does this suggest that on a colder morning I may run low on water and trip the LWCO? 



My wet return is all copper and less than a year old.  I have two dry returns which are pitched well.  I am not sure what I can do to get the water back to the boiler faster? 



Picture is from a few mornings ago and a few minutes before the burners shut off.





 Thank you for your time.

Chris J
Single pipe quasi-vapor system.
Typical operating pressure 0.14 - 0.43 oz.
EcoSteam ES-20 Advanced Control for Residential Steam boilers.
Rectorseal Steamaster water treatment
Comments
This discussion has been closed.