Welcome! Here are the website rules, as well as some tips for using this forum.

Garber vacuum gauge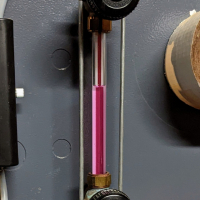 I just bought one of the Garber filter restrictor gauges to add to my spin on filter housing.  I noticed the needle sits around 2 lines up from 0 with nothing applied.  I guess thats what you expect from a $10 gauge eh.



Any how, Is there any kind of thread sealant I should add to the fitting?  I was always told to never use teflon tape on fuel fittings.  My understanding is I will have to loosen the gauge every time I change the filter to bleed air out.



Thanks,



Chris J
Single pipe quasi-vapor system.
Typical operating pressure 0.14 - 0.43 oz.
EcoSteam ES-20 Advanced Control for Residential Steam boilers.
Rectorseal Steamaster water treatment
Comments
This discussion has been closed.