Welcome! Here are the website rules, as well as some tips for using this forum.

injection piping/problems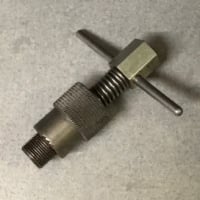 Hello everyone, long time reader, first time poster.  I'm having a problem with the injection  piping supplying the radiant heat zones.  The problem appears when only one radiant zone calls for heat.  The injection supply gets very hot, the injection return gets very hot, and the both sides of the closely spaced tees (supply/return to/from circs) stays cold.  Then the supply sloooooowly warms.  If more then one zone calls, everything works like it should.  I think the problem is the injection piping and the supply/return to/from radiant circs, are both 3/4".  My opinion is the injection circ is ramping up and blocking flow (or reversing flow through the closely spaced tees) and returning right back to the primary loop.  If I turn the radiant circs up to 'high', its less of a problem, but I end up with lots (and loud) expansion noise of the pex.  Should I repipe the supply/return to/from the radiant circs to  1 1/4 copper, then reduce to 1 1/4x 3/4 tees to the circs?  I (hopefully) attached a picture showing the main components.  Any input would be greatly appreciated.

Thanks
steve
Comments
This discussion has been closed.