Welcome! Here are the website rules, as well as some tips for using this forum.

Any boiler can become a "combi"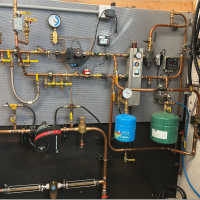 Some folks are intimidated by all the extra components and OEM parts involved in combis. Extra pump or diverting valve, mono-bloc assemblies, complexity, etc.

At days end, it's just a HX, flow switch and pump or 3 way valve.

I built this for my shop yesterday. I only have a 50,000 boiler, so mainly for washing hands, squirting the truck off DHW.

Im had this HX module in a nice PP enclosure. A Sika .5 gpm flow switch and a 15-58 Grundfos.

When a hw tap turns on the flow switch wires to the DHW "call" in the boiler. This Lochinvar has that DHW enable connection as well as a 120V pump connection. Basically 4 wires. The boiler goes to full fire 180F on DHW call.

In takes 43 seconds to feel warm water at a 1/2 gpm or so flow. Some combis allow an "always hot" HX so hot water within a few seconds.

All the components are outside the box, easy to service.

I have a Moen PosiTemp shower valve ordered as the shop hose connection.
Bob "hot rod" Rohr
trainer for Caleffi NA
Living the hydronic dream
Comments