Welcome! Here are the website rules, as well as some tips for using this forum.

need a 12 or 24VDC temperature controller?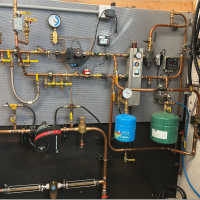 I have a bunch of these solar differential controllers. They have differential and set point functions, as well as basic data logging, hours of pump run, BTU calculation if you enter a flow rate.
Intended for off-grinders with battery systems but they work nicely with any 12VDC like a RV or your truck. Usually connected to the B&G/ Laing solar strong 12-24VDC circulators but will run fans, lights, etc within the relay capability.
Or use it as just a 4 temperature digital display. 4 sensors included, spare fuse, etc.
These are Resol brand controls, very nice German quality. New in the box, old inventory, no warranty. Cover the shipping cost, probably 20- 25 bucks and I will mail one to you. PayPal, Venmo, or send a check
A short video on how to make adjustments within the different pre-programed arraignments. A link to the current manual, and a video showing how to make adjustments.
https://www.resol.de/Produktdokumente/48005931_DeltaSol_BS_Plus_V2.monen.pdf
https://www.caleffi.com/usa/en-us/blog/how-do-i-commission-and-configure-my-isolartm-controller
Bob "hot rod" Rohr
trainer for Caleffi NA
Living the hydronic dream
Comments