Welcome! Here are the website rules, as well as some tips for using this forum.

Constant circulation-Wiring/control strategy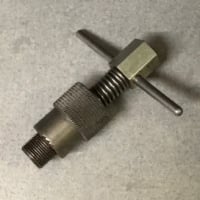 Hello forum. I wanted to continue a conversation from another thread based on this idea for constant circulation:
http://www.pmmag.com/articles/88410-zoning-with-constant-circulation-br-john-siegenthaler
I am ok with the wiring for the Indirect, boiler demand (via a sensor in the buffer tank), and injection mixing.
But I can't figure out how I would control the zones, with the attached piping diagram, meeting the following goals:
Constant circulation on the 6 zones, with power to the circulators disrupted when the boiler control (Tekmar 374) is in WWSD. A few ideas are:
a) Have the thermostats connected to a zone control panel, connected to boiler control, only operating the 3-way zone valves. Separate zone panel control, t-t's jumped, supplying power to the circulators. Just cant figure out how to break power to the circs during WWSD.
b) With Caleffi's 6443..3BY - 3-way By-pass valve it appears I can wire to do this. Although the instructions say the valve should be on the supply, and Siggy had it on the return (maybe a different valve).
I can't tell from Tekmar (emailed support), or any of the other companies zone panels, how WWSD would turn off the circulators.
This is on an existing oil-fired system (my house). I've piped this a few different ways as an experiment and to satisfy my own curiosity. I think this will be the final time, because for one, I'm getting too old, and 2, my wife feels I have an unhealthy attachment to hydronics...lol
Anyway, here's the piping diagram (sorry so crude). Just the major components are on there. I didn't feel like drawing in all the isolation valves.
Any thoughts/comments/suggestions would be greatly appreciated.
Thanks Wallies
Steve
steve
Comments