Welcome! Here are the website rules, as well as some tips for using this forum.

vent filling with water?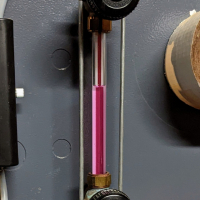 Early on when I first fired up the system with the new boiler I kept running out of steam.  I had radiators that refused to get hot some times.



Now after insulating my header and 80% of my mains as well as adjusting vents on certian radiators to keep rooms for overheating like my bedroom which I like cold,  another problem has showed up.



I have a radiator which is first on the line and also on my short main which loves to take steam first which keeps getting water in its vent and then it stops working for obvious reasons.



The radiator is 11 sections and 28sqft of EDR.  I have had the Hoffman 1A on it wide open at #6.  Originally it was pitched wrong so I corrected that but yet again over time the vent filled with water.

This is the only rad I have had this problem with.  is this to be expected from a rad so close to the boiler venting at this speed?  Most of my other radiators are also set to #6 and seem to work flawlessly, at least so far.
Single pipe quasi-vapor system.
Typical operating pressure 0.14 - 0.43 oz.
EcoSteam ES-20 Advanced Control for Residential Steam boilers.
Rectorseal Steamaster water treatment
Comments
This discussion has been closed.