Welcome! Here are the website rules, as well as some tips for using this forum.

Please, check my work, vent question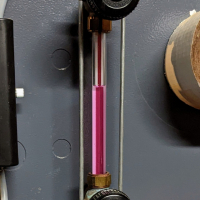 I just want to run my vent setup past everyone to see if its ok.  I have not had my final inspection yet and would like to know if this is safe ahead of time.



This is the only picture I have on hand,  I can take a better one when I get home if need be. 



I have two 90 deg elbows swiveled with a 6" pipe in between.  The B-vent is 6 inch as are all connections per the Boiler manufactures recommendation and local code.   One elbow is on the vent damper and the other goes directly into my B-vent.  All pipes are secured with screws except the elbow into the B-vent.  I did not see any easy way of doing this.



My one concern is the elbow into the B-vent isn't super snug like my other connections.  Sure, it fits inside of it and cannot come out but I wish it could be better.  The pipe is as short, vertical and direct into the B-vent as I could make it.



Should I use boiler cement on the connection into the B-vent or just leave it the way it is?
Single pipe quasi-vapor system.
Typical operating pressure 0.14 - 0.43 oz.
EcoSteam ES-20 Advanced Control for Residential Steam boilers.
Rectorseal Steamaster water treatment
Comments
This discussion has been closed.