Welcome! Here are the website rules, as well as some tips for using this forum.

It must have been that way for YEARS!!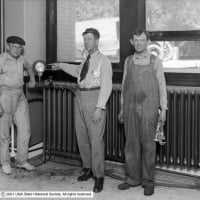 Timco
Member
Posts: 3,026
Post your best story that follows the thread title!



Mine is from today. A very old 3-stage B&G, retired and on the floor where it fell. A huge Grundfos bronze circ now hooked up, smoking hot and making funny sound. This is for a DHW recirc loop. That 3-stage must have been changed a few times. So the complaint is no hot water (takes forever) at the kitchen taps, all on one side of the building. I feel the pipes on both sides of the circ and tank side is hot, building side is cold. Remove the circ, no water from building side. Must have a rust clog? Tons of rust, circ is full and all near piping. Must be on track! Still no flow, pipe just disappears into the wall. I chip away at the old plaster that sealed the wall up and find an original (1909) gate valve and weighted check. THE GATE VALVE IS IN THE CLOSED POSITION!! It must have been that way for 20? 30? 40+ years? I can just see the last few guys..."bigger pump, give it a while." "it will heat up in a few hours" Problem is now fixed, happy occupants. Never worked better!



Tim
Just a guy running some pipes.
Comments
This discussion has been closed.