Welcome! Here are the website rules, as well as some tips for using this forum.

Help Wanted, Journeyman Pipefitter needed.....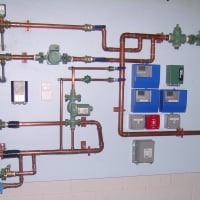 Company Profile:

Year Company Established: 1990
Area(s) Serving: Lower Faifield County, Connecticut

Specializing In:
We specialize in Hydronics. WE do a lot of radiant heating and some old steam heating projects to. Most of our radiant projects are high end residential. We have done some commercial too. We also do some plumbing as fill in work.

Size of Firm: 4 Employees

Standard Employee Benefits:
Paid Sick Days, Paid Holidays, Paid Vacation Days, 401K and Health can be made available if needed. We offer paid travel to trade shows and seminars sometimes.

Mission Statement:
Our goal is to be the best hydronics contractor in our area. We have the best technical training in our area. Our radiant projects have won awards in the Radiant Panel Association's system showcase two years in a row. The owner, John Ruhnke has a few Patents issued or pending in the field of hydronics.

I have never laid off an employee for lack of work in the eleven years that I have had employees. Fred has been with me for eleven years. If you are good, honest and friendly to the clients I will keep you busy all year long.

Brands Representing:
Wirsbo
Buderus
Tekmar Controls


Misc:
If you want to be the best then you need to work with the best!!

Contact: John Ruhnke
1-203-849-1479

<A HREF="http://www.heatinghelp.com/getListed.cfm?id=96&Step=30">To Learn More About This Professional, Click Here to Visit Their Ad in "Find A Professional"</A>
I am the walking Deadman
Hydronics Designer
Hydronics is the most comfortable and energy efficient HVAC system.

This discussion has been closed.