Welcome! Here are the website rules, as well as some tips for using this forum.

Dry steam vs. velocity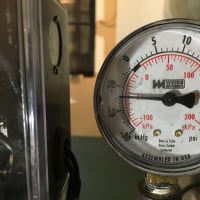 Exiting velocity ofa steam boiler should be kept as low as possible at 26 fps that's way to fast for me i always try to make my header large enough so my exiting velocity is down to about 15 or lower at the velocity your getting some very dry steam and if the boiler is clean you should hardly any surging in your sight glass .At that slow of a exiting velocty the old layers of latex paint should be peeling away .Check the library i know there is a formulka for fiquring what size header pipes will give you your boilers exiting velocity .I will always go at least one pipe size larger then the exiting mains for my header example boiler 2 2inch riser system 2 2 risers this header should be at a mimuin a 3 and thats if the boilers output is only about 150 btus peace and good luck clammy
R.A. Calmbacher L.L.C. HVAC
NJ Master HVAC Lic.
Mahwah, NJ
Specializing in steam and hydronic heating
Comments
This discussion has been closed.