Welcome! Here are the website rules, as well as some tips for using this forum.

Help Wanted!!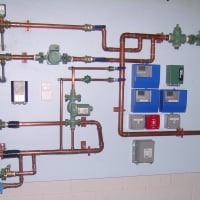 Help Wanted!!
Wet Heads Needed!!
We are looking for a Licensed Plumbing and Heating Technician that knows Hydronics.
We are a small Plumbing and Heating Company specializing in Hydronics. Do you frequent Dan Holohan's web site, the wall?
We have installed, designed and repaired many radiant, old steam and other hydronic systems. We have received an award in the Radiant Panel Association's System Showcase, the past two years in a row.
If you want to work with some of the best, give us a call.
John Ruhnke
JR's Plumbing & Heating LLC
1 Thistle Rd
Norwalk, CT 06851
1-203-849-1479
www.ComfortableHeat.com
[email protected]
<A HREF="http://www.heatinghelp.com/getListed.cfm?id=96&Step=30">To Learn More About This Professional, Click Here to Visit Their Ad in "Find A Professional"</A>
I am the walking Deadman
Hydronics Designer
Hydronics is the most comfortable and energy efficient HVAC system.

This discussion has been closed.