Welcome! Here are the website rules, as well as some tips for using this forum.

Whaddya think.. (ME)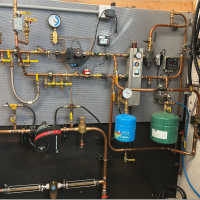 one could argue that the discharge of the circ, being the highest pressure point, does in fact what you described keeping the HX at the highest pressure.

I still think of any copper tube boiler as a high pressure drop HX, comparing CT to cast iron where the pressure drop is nil. Don't some of the German cast iron run without a circ pump, and only a pump downstream of the 4 way?

I know I have quieted down moaning copper tube boilers by merely upping the pressure in them by cranking up the fill valve. Sometimes an extra 5, 7, or 10 PSI static makes them happy!

Best I can do right now.

Actually in a true P/S with the expansion tank in the primary loop, and the boiler a secondary, you would "pump away" from the loop into the boiler to be truely pumping away from the PONPC. So, again you could mount the pump right onto the side of the boiler, pumping into 'er.

hot rod
Bob "hot rod" Rohr
trainer for Caleffi NA
Living the hydronic dream
Comments
This discussion has been closed.