Welcome! Here are the website rules, as well as some tips for using this forum.

Wow! Design software from Siggy's team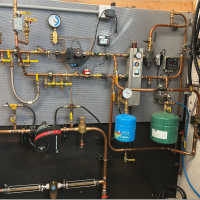 allow you to build circuits. In this example I have some fin tube, plates under floor, gypcrete and slab. You can toggle the zone valves on and off and watch the flow and head change. It allows you, also to toggle the PAB on and off, change brands and sizes of the pressure activated valve, as well as pumps brands and sizes. Clever. Every input shows the effect on the layout.

hot rod

<A HREF="http://www.heatinghelp.com/getListed.cfm?id=144&Step=30">To Learn More About This Contractor, Click Here to Visit Their Ad in "Find A Contractor"</A>
Bob "hot rod" Rohr
trainer for Caleffi NA
Living the hydronic dream
This discussion has been closed.