Welcome! Here are the website rules, as well as some tips for using this forum.

DHW recirculation with thermostatic mix valves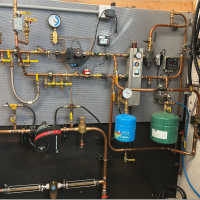 About 20 years ago I clipped an article from PM magazine regarding proper piping of recirc systems when using thermostatic mix valves.
I still have those pages! I've attached them, with permission from the author Julius Ballanco.
One of Caleffi's most viewed webinar on You Tube is when we had Julius on as a guest to explain the piping. 8 years ago!
Same result when Siggy presented the topic.
We covered this again yesterday in our Coffee with Caleffi webinar, and had over 600 attendees, a high % of plumbing engineers, so this topic continues to strike a chord.
If you install such a system, or come across a misbehaving recirc with fluctuating temperature issues, take a look at these attachments.
The basis concept is to balance, regulate the flow in the recirc loop to just overcome the heat loss, the rest of the flow goes back to the tank. This will eliminate temperature creep. If the cold port of the mixer sees warm recirc temperature it cannot mix properly. See graphic below of mix valve with warm water on the C port.
Temperature droop is caused by inadequate flow in the loop, also a balance fix, assuming the recirc pump is sized properly.
I suspect this happens, temperature creep, in many buildings. The occupants learn to live with the problem, running water until temperature stabilizes?
Oversizing a recirc pump never fixes either condition
Bob "hot rod" Rohr
trainer for Caleffi NA
Living the hydronic dream