Welcome! Here are the website rules, as well as some tips for using this forum.

Hydronic Radiant Floor HELP "Taco X-Pump Block & Taco Radiant Mixing Block"
I have had issues with my radiant floor heat since I purchased my home late November of 2020. I am usually handy enough to make some head way on almost everything but this, I can't make any sense of what had previously been done and/or how to operate so, (other than me tinkering on it) the system is off and unplugged. I live in a rural area and only have one company that works with this type of system. But, this same company I refuse to use again as they been out and have charged me multiple times on my geothermal heating and air without fixing ANY of the problems. Leaving me to study and fix it myself.
I am currently doing a complete basement remodel (due to unfortunate flooding). The whole ceiling is exposed allowing me to fix, repair, and/or reroute my pex tubing, and to hopefully experiment to get this system dialed in. But now, I feel like the more I dig into this system and the more I learn, the more I feel like the original installers did not know what they were doing, leaving me more and more confused with no one to ask or help. So this has put a screeching halt on completing my basement remodel because I refuse to cover everything up since most everything to complete the system is already here.
I don't know if it helps but, I have a 3 story, 5,200sq. ft. house, built in 2007, with a daylight finished basement. All three levels of my home are very close with each other in square footage. My "Mechanical Room" is located on the far end corner of the basement which also houses all of my plumbing and components to my radiant system. My house is roughly 60ft long and 30ft wide.
The basement radiant floor is in slab and has 9 zones 1/2" PEX on the supply manifold, and 9 zones 1/2" PEX on the return manifold, and 1 Thermostat.
The main floor and the 3rd story are on 1 manifold and is an "In-Joist" application. On the supply manifold I have 3 zones 3/4" PEX and 1 zone 1/2" PEX. On the return side of the manifold I have 2 zones 3/4" PEX and 1 zone 1/2" PEX.
The whole system is "Closed Loop", and is power by a gas tankless hot water heater, a Taco X-Pump Block, and a Taco Radiant Mixing Block. I feel like I have watched countless videos and read countless articles with this but I haven't gotten far. I haven't seen one application where both the Taco XPB AND the Taco Radiant Mixing Block are used together, it always seems like it's one or the other but, I have both in mine.
I need detailed help with all of the system, like:
-Zones
-Layout
-Settings
-Operation
Some help and direction would be greatly appreciated so I can put my house back together. Thank you all so much!
An idea of how the PEX was originally ran
Don't mind the mess lol but, here's a direct look of what it was like
Tankless Water Heater "ONLY FOR FLOOR HEAT"
Taco XPB Top, Mixing Block Bottom
Mixing Block
Taco XPB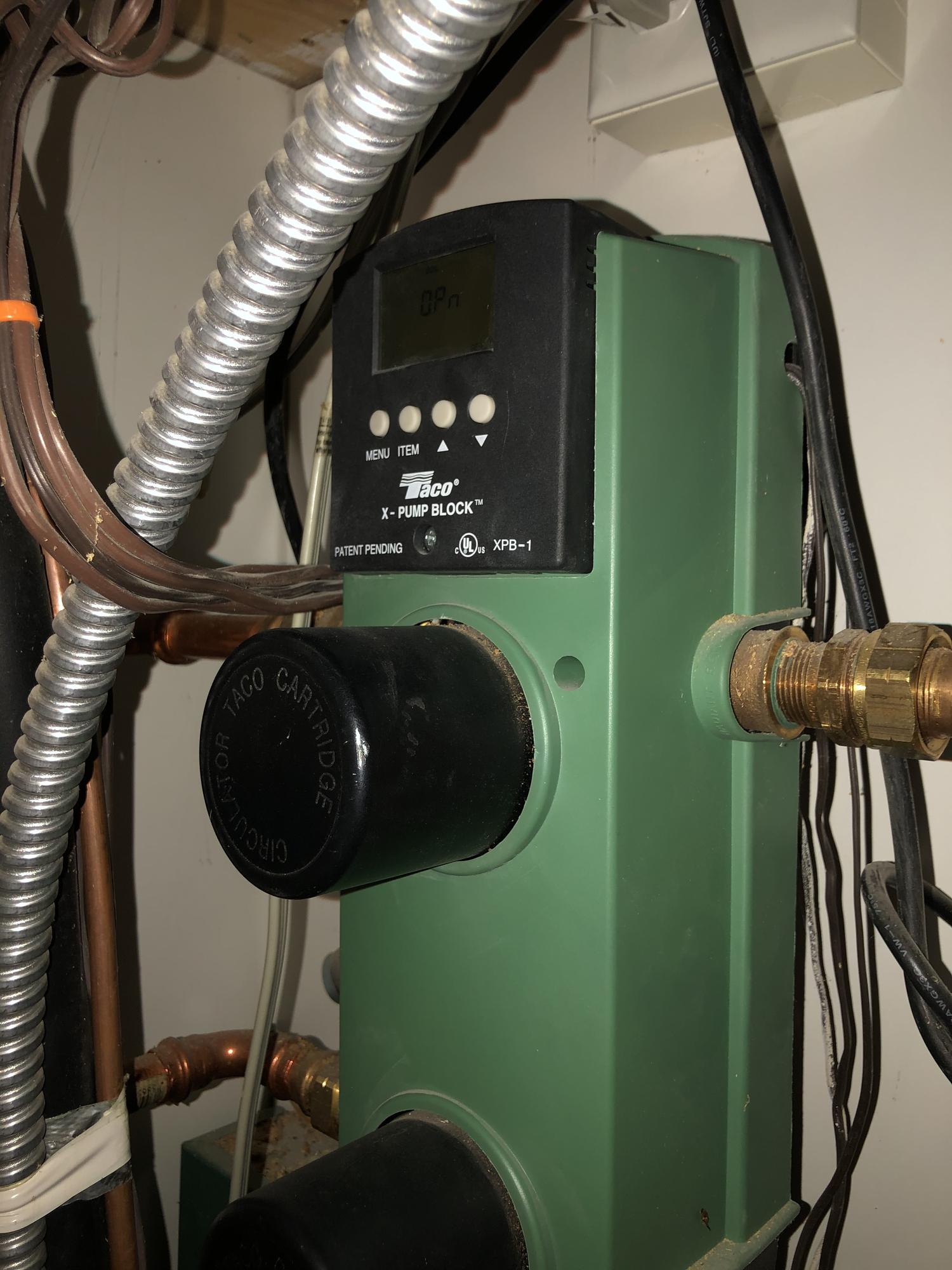 Manifolds & Zones. The top is the Main Floor and 3rd Story. Bottom is Basement
Under the Water Heater. Hot and cold are tied together. Shouldn't they be separate?
Comments