Welcome! Here are the website rules, as well as some tips for using this forum.

Some thoughts for the writers of CI boiler installation manuals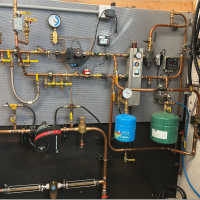 Looking over a common IO manual, dated 2022 last evening.
Showing a high efficiency air separator would improve the air and O2 removal, quite possibly improve the boiler and heat emitter efficiency. Good chance of extending the boiler life.
In addition to P/S piping options show a hydraulic separator with multi function as an option. Which would also improve air, dirt and magnetic performance.
Consider showing a
viable
variable speed return protection piping or modules. The variable speed bypass circ improperly applied, will not, cannot assure 100% return temperature protection. There is no way to disconnect the load from the boiler. An expensive swing and a miss
Consider this CI boiler on a gravity conversion application shown below. Return from the radiators on start up, any call for heat really may be room temperature, or colder if piping is in an unheated basement or crawlspace.
Call it 70° return from the system. Running balls out, a properly sized boiler can maybe lift that temperature in the boiler 20°, although doubtful with that thermal mass load. Call the boiler supply 90°. Maybe by some act of God it raises it 40° to 110°
So how does 90° degree, or 110° with heavenly intervention, boiler supply mix with 70° return from the radiators to get a 130° return? The numbers don't add up, pun intended. That boiler will run for hours to catch a high mass load, CI radiators, radiant slabs.
A simple thermostatic return valve is 100% solution.
A very simple piping modification, same temperature controlled VS circulator would get you 100% return protection.
Judging by the number of failed, condensation corroded, young CI boilers that come across this list... Think of the warranty money that could be saved. Or the unfortunate conversation of denying a warranty on a corroded boiler that was inadequately protected.
Bob "hot rod" Rohr
trainer for Caleffi NA
Living the hydronic dream
Comments