Welcome! Here are the website rules, as well as some tips for using this forum.

UA 449 Steamfitters visit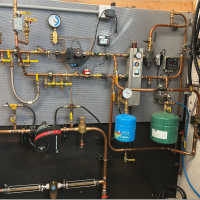 They have an incredible facility near Pittsburg, PA. Around 500 students, young men and women going through classes from welding, refrigeration, HVAC and Hydronics. Classes are open to non union students also. A semi trailer training rig hits the road soon to other UA locations.

Several thousand 499 students worked on the Shell cracker plastic facility, shale gas to plastic production, as it was and is being built. The plant will produce 1.6 million tons of polyethylene per year. 40 cranes swinging on that job.

I presented Primary Secondary piping for the 3rd year students today.
Bob "hot rod" Rohr
trainer for Caleffi NA
Living the hydronic dream
Comments