Welcome! Here are the website rules, as well as some tips for using this forum.

Fuel cost info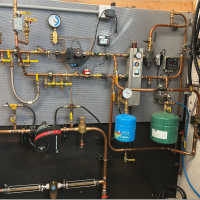 the EIA keeps this data current. you can look back 10- 20 years. You can drill down to a more specific region. Prices are less tax.

google fuel costs for you town and you will find these sites, the blue slide, where consumers keep prices updated.
These are mainly RV dealer prices for LP in my area. LP is usually posted along with gas and diesel on their roadside signs. Price goes down when you purchase 250 gallons or more from LP distributors.

2 bucks for LP in Iowa, 5 bucks in Florida, so quite a spread.

Fuel oil is not so common here, it tends to be priced like diesel. So quite a spread between LP and oil. NG here is some of the lowest in the nation. So by far NG makes sense form me.
Bob "hot rod" Rohr
trainer for Caleffi NA
Living the hydronic dream