Welcome! Here are the website rules, as well as some tips for using this forum.

Help with a Monoflow System
Hi all, 
Wanted to start by saying I am a new first-time homeowner at the young age of 26 and this site has been an extreme wealth of information to me in the past few months, so thank you all for your knowledge. I recently bought a Brick Ranch home with a full basement built in 1957, and the home is on a hot water boiler system. The boiler was replaced by the previous owner in 2020, and it is Dunkirk DXL-100 Series 2.
In the past few weeks I have come to understand that the home uses a "one-pipe" or Monoflow system, and I have some questions regarding this kind of system, my personal home layout, and the proper ways to maintain this sort of system. There is not much info available elsewhere to understand the basics of this system (from what I can find) other than bits and pieces on this forum and others. 
First let me say that the home has all original (I assume) cast iron baseboard heating in the living room, kitchen, and 3 bedrooms. I have a full bath and a half bath that are both supplied heat by two recessed CI panel radiators. The heat in the house so far has been great, but the cold season is just now starting. 
With that said, I have some questions regarding the layout of my house. I will attach a picture I drew (poorly) of my house layout. My questions are numerous actually but I'll try to keep the opening somewhat brief and hopefully expand a bit in the next few posts.. 

First, my boiler is in my basement, the main loop goes around my entire basement in what I believe to be a clockwise motion. For a single level home system with baseboards above the boiler, all literature I see says the main loop should have only one Monoflow tee installed on the return piping from each baseboard/radiator. My system has two on every single supply and return of each BB in my home. Is this proper, or problematic? Does it affect flow on the main loop? 
Second, I have speculation that some of the Monoflow tees are possibly installed in a backwards direction of what I would consider the proper return flow of the loop. Is there a way to determine flow of an original Bell&Gossett tee that does not have the red ring? Some of my tees have stamped tags indicating flow and they are pointing AGAINST flow, but others have been damaged or painted over entirely.
Third and final for now, I have seen diagrams of Monoflow systems that seem very similar to mine, but are pictured with both return and supply loops connected and a separate circulator that continuously flows independent of the boiler when the boiler is not firing. My system is a simple one pipe design where the supply from boiler ends at the return side of boiler. This return side is where my circulator is installed. Does anyone know if this is correct or should the loop be piped in a way to bypass the boiler as stated above? 
Sorry for an extremely long first post, and probably for incorrect terminology and explanation! If anybody has any knowledge about these particular systems I would love to learn some more about them, they seem to be a dying art in a way! Thanks in advance for any answers.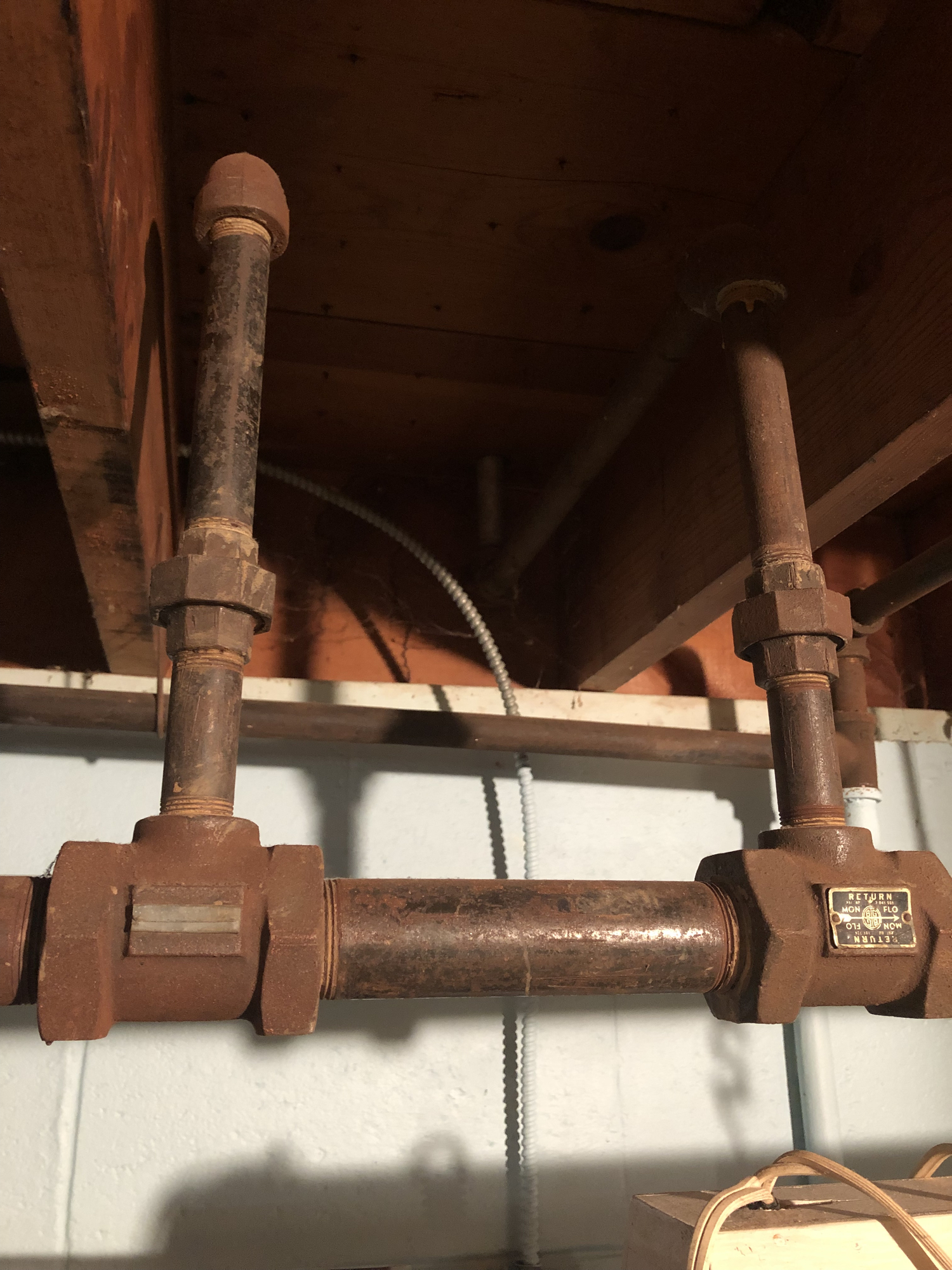 Comments