Welcome! Here are the website rules, as well as some tips for using this forum.

Condensation inside Navien tankless water heater
Hi everyone,
My parents had Navien tankless water heater installed at their home about seven years ago. Every time I am in town (if I remember) I will try and do some basic maintenance on the unit, including open it up clean the filter and interior of the cabinet. They don't have hard water, so I've only done a flush once about two years ago.
When I opened the cabinet earlier today, I noticed some brown stains at various locations inside the cabinet. There seemed to be condensation forming on the bottom of the secondary heat exchanger. When I tried to clean it, it seemed to be a brown oily substance: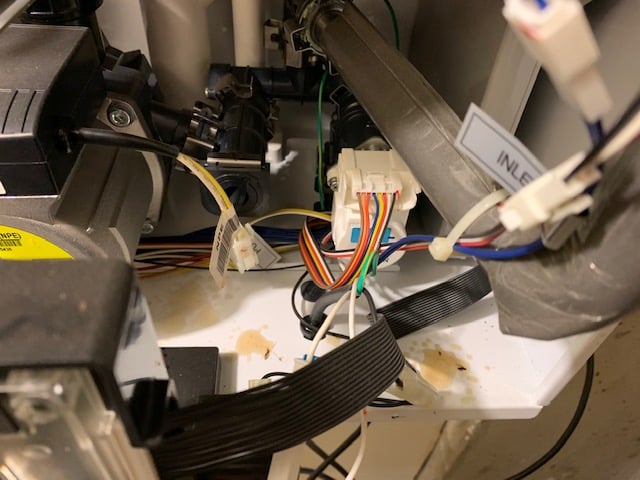 I tried my best to clean the condensation and any of the stains I could get to. I also notice some water and rusting at the back left corner, near the water outlet point:
I also noticed a lot of rust around the flue exhaust:
I tried to clean up as best as I could but wasn't sure what this was about. I also looked at the air intake filter and noticed a lot of debris (there has been some construction next door which I think made things worse).
I also noticed some green rust around the igniter on the primary heat exchanger:
While I looking online it seems at least one other person had a similar issue
on reddit
. Some of the comments suggested that exhaust gas is recirculating into the cabinet. Another suggestion was the gasket of the exhaust packing ring isn't rated to handle the temperature of the exhaust gases (
link to a video
which unfortunately is private). There was also a reference to a post on
HeatingHelp
which seemed to suggest the issue might be an issue at the concentric termination (which I haven't yet checked).
I was wondering if there were any thoughts on what might be the issue. Can this be just due to debris in the air intake filter or is this something more serious? Do you think I should be contact Navien to get their diagnosis?
Comments