Welcome! Here are the website rules, as well as some tips for using this forum.

hydronic baseboard with electric back up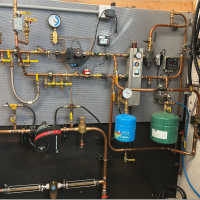 six ZVs and a transformer is about 200W x 3.41= 682 btu/hr. Almost as heavy as cast baseboard so I have some mass. Fins for convection. Enough to keep the bathroom warm.
So when my boiler fails or I run out of LP, power it up
Connect to WiFi plug for remote activation.
Need to find a bit longer enclosure, however.
Starting to get a bit of cabin fever, been cooped up since March, mind starts to wander, hydronic hallucinations.
Bob "hot rod" Rohr
trainer for Caleffi NA
Living the hydronic dream