Welcome! Here are the website rules, as well as some tips for using this forum.

16 year old mod con combi dissected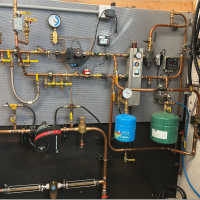 I replaced this Laars Mascot, a re-badged Baxi 330 I believe, this weekend. It had been disassembled only twice for cleaning, never flushed the Dhw side of the HX. It had Rhomar conditioner in the boiler.

HX and burner, even flame rods in very good condition. I cut the plate HX in two, also in very good condition.

Never a single issue with 15 years of Dhw and heat, it has cycled thousands of times while providing Dhw. It was a direct vent model flue and vent in a concentric tube.

It was starting to leak on a few of the bayonet type connections on the Giannoni HX, and I see the gasket between the HX and flue assembly was starting to crumble. The control was fairly dated, and parts may no longer be available.

This is one of the best constructed mod cons I have worked on, all the piping, brackets, assembly was top notch, very well engineered.

I suspect this HX could go another 10 years judging by the condition.

These Giannoni are a well built HX, properly cared for and installed it should last 25 years or more in my opinion..
Bob "hot rod" Rohr
trainer for Caleffi NA
Living the hydronic dream
Comments