Welcome! Here are the website rules, as well as some tips for using this forum.

Question on shutting off water from 20+ y.o. Honeywell on demand boiler to baseboard in one zone
Recently moved into a new home and not too familiar with the setup of this oil boiler (see pic). It's on demand so no water heater. I have burst baseboard pipe (luckily it burst in the basement and not upstairs). I know why it burst and frankly not my concern right now (poor insulation near a basement window).
My concern is getting a temporary fix in place while I wait for daylight and call a plumber. I tried to patch up the pipe, but I really don't have the resources and my temporary patch job isn't working. Normally I'd just shut off water to the boiler, but it's in the lower single digits tonight and this would also turn off the heat to the basement causing more issues. I have a pellet stove upstairs so I don't need the heat to the area with the leak. I turned the thermostat all the way down and cranked the pellet stove up, but the boiler periodically kicks on sending water through the system. I heard gurgling as I was falling asleep, which is what alerted me to the fun.
For the time being, I turned off the valves sending water out to the first floor (zone where the leak is) from the boiler and coming back to it (there are 2 ball valves) until I can call a plumber in the morning. To be completely honest, I'm not sure which pipe sends water out to the zone and which returns it to the boiler, but I think it's the one on the left (see picture below). I'm used to zone valves with shut off valves there, but this is a different setup.
My question: Is it okay to leave configuration in place until the plumber gets here (shutting off water from the boiler to that zone), or will it cause issues to when my boiler kicks on? It already kicked on and shut off and I'm not trying to clean up water, so the valves are doing their job of preventing water from getting to the leak. I just don't know enough about the boiler to know the consequences of leaving it like this until the plumber can get here.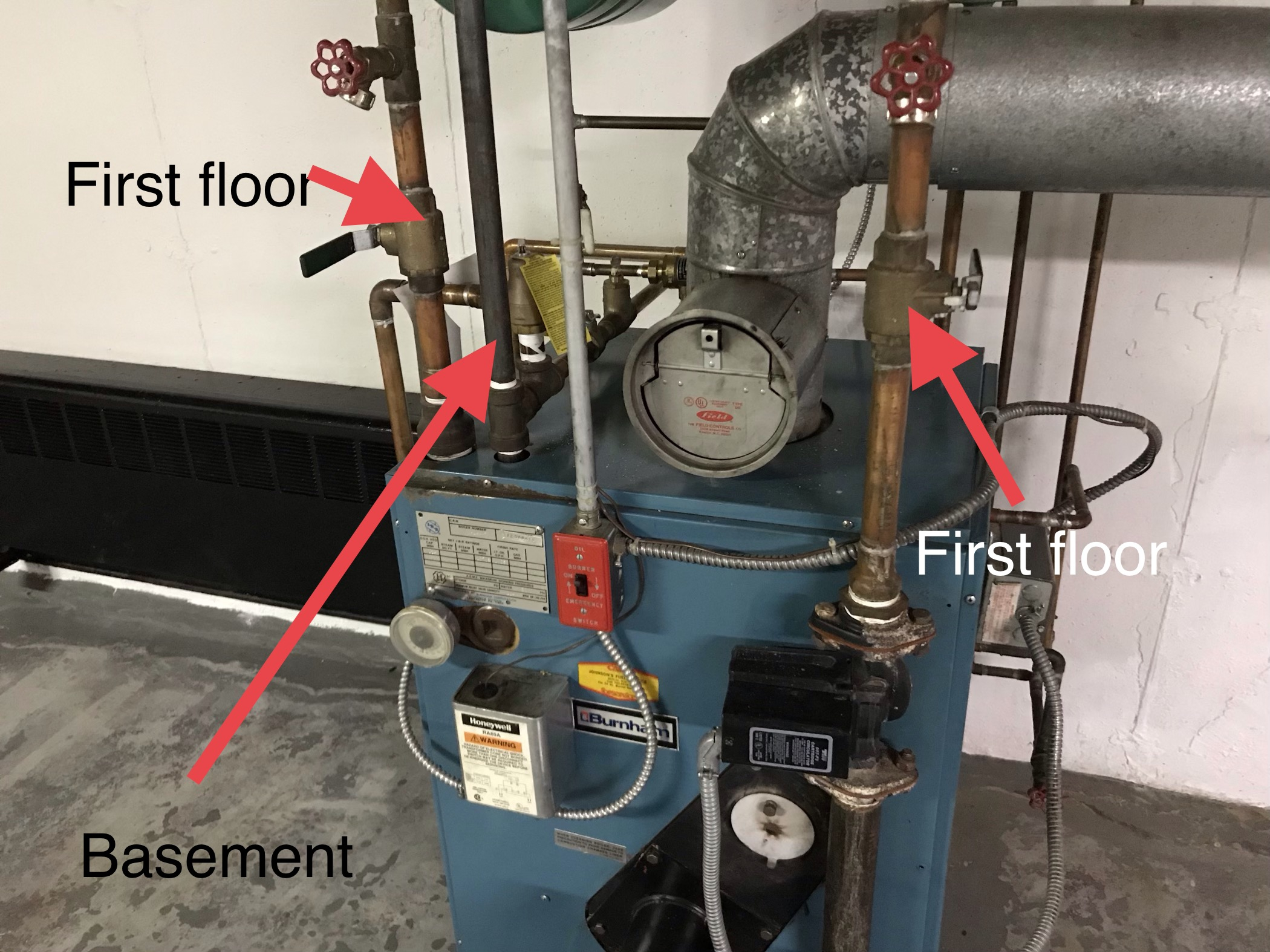 Comments