Welcome! Here are the website rules, as well as some tips for using this forum.

weil mclain ultra 155 setting help?
My boiler keeps on modulating all the time ever since it had its latest maintenance.
The boiler was maintained in August 2018 full cleaning and changing of all the gaskets by a contractor. Now boiler is modulating when heat demand is needed and not producing heat enough heat. Except hot water through a indirect tank available any time. it is a three zone system but both zones of baseboard heating house is hit or miss during times of heat demand since the maintenance and boiler modulates several times during the day. With no errors codes given to show or anything under the error menu. Both Sensors were replaced on the return and supply to rule-out faulty equipment. Air bleed the zones does not resolve the issues or manual restart does not stop the modulation and start the heating process. the boiler does not state any error codes but will show many several auto restart counter values. I have a question about the circulator settings under the boiler priority menu, for boiler priority only pump 1 is on, for boiler priority 2 pump two is on and for boiler priority both pump two and three are on. attached are pictures of the boiler to see the setup and a few pictures programming fields of the any help would be greatly appreciated.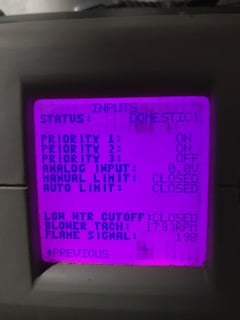 Comments