Welcome! Here are the website rules, as well as some tips for using this forum.

Replacing R8991A oil primary (obsolete) with modern primary and have pre/post purge.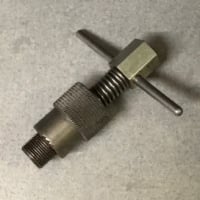 Hey Forum, I came across this the other day. Old oil primary bad (Honeywell R8991A primary & ignitor), and replaced it with new primary and new ignitor. Simple, following the first diagram.
What I was wondering is if I can re-wire like my second diagram and get both pre & post purge.
Existing sequence of operation:
When a call for heat from t-stat:
1. T-T on board closes T-T on primary control (thru yellow and blue-3 & 6 on molex connector).
2. Primary constantly powered thru Black wire to L1, T-T closing powers Orange wire.
3. Orange wire goes thru molex on 4 & 7. If limit is closed sends power to 8 on the molex (violet wire) to power burner motor and transformer. And if limit is opened, no power to burner motor/transformer.
What I think I can do to give pre/post purge:
(The entire existing wiring harness goes from molex connector to the box on the burner)
1. Take orange wire from molex #7 and jump it at L1 at the primary, giving it constant power (like an older style fan/limit).
2. Take the violet wire from molex #8 and put it on the Limit terminal on the primary control. My thinking is on a call for heat, if the limit is open, nothing comes back on violet to the primary, and the burner motor/ignitor/oil valve stay de-energized. If limit is closed, burner runs off primary in the traditional sense.
3. Wire burner motor, ignitor, and oil valve from the primary as normally done.
As my brother always says (as one word with a southern draw)...ThinkIt'llWork?
I'm ok with it wired conventionally and it works fine. Just wondering if it can/should be done this way and take advantage of pre/post purge.
Thanks
Steve
steve
Comments