Welcome! Here are the website rules, as well as some tips for using this forum.

A low lead auto air vent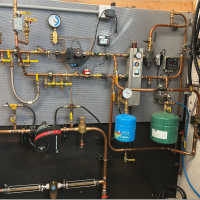 Any valve or device in potable water systems must be low lead certified now.

This is a vent that would be used on water conditions equipment and also on DHW recirc systems. Air and other gases are entrained in water supplies, a vent on top of the tank or tankless and on any risers is where this vent would locate.

It also has a hydroscopic cap for a second shut off protection. I'd install with a low lead isolation ball below for air testing or service use.

They are being labeled this week, ready to ship by weeks end.






Bob "hot rod" Rohr
trainer for Caleffi NA
Living the hydronic dream