Welcome! Here are the website rules, as well as some tips for using this forum.

Expansion tank location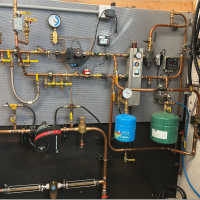 This question comes up a lot when I do trainings. In either case shown we are pumping away from the PONPC. If the boiler is a "wide open" style, little pressure drop, then the tank on the return is fine. It puts it in cooler fluid and less heat loss through the shell.

High pressure drop boilers prefer you pump into them as shown in installation manual suggested piping methods.

Critical on both is the air separator at the hottest point in the system.

The expansion tank need not be at the air separation device.


Bob "hot rod" Rohr
trainer for Caleffi NA
Living the hydronic dream
Comments