Welcome! Here are the website rules, as well as some tips for using this forum.

Combi boiler DHW troubleshooting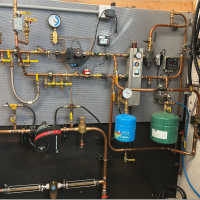 I got a look at a plate HX from a residential application in the Bozeman area this week.

A new boiler installation, DHW problems less than a year into the start up. Troubleshooter checked pump operation, sensors, control, replaced the control board, per the manufacturers suggestion.

Finally took the HX apart to find the boiler side had fouled. Some of the particles that Dale shook out measured .030. the boiler fill water was from the site, well water, one fill and flush.

We don't often think about the A side on these combo plate heat exchangers, or how hard or high TDS water can compromise them from day one. Same scaling potential inside the boiler I suspect. An expensive troubleshoot and repair!

Here is a graph we put together to show how efficiency and performance drops as scaling accumulates.

Interesting how simple the HX to composite block connection is made with flat washers.


Bob "hot rod" Rohr
trainer for Caleffi NA
Living the hydronic dream
Comments