Welcome! Here are the website rules, as well as some tips for using this forum.

Riello misfiring
I have a Columbia furnace with a Riello 40-F3 burner that had been working well since I bought this house. The other day I came back to a cold house and a locked out burner. I noticed the smell of burnt electronics and found a blown wire from the lockout switch and a popped capacitor, highlighted in the picture below.
Hoping that this was just a capacitor that gave up after 25 years or so of service, I ordered a replacement control box and switched over to the heat pump. When the new box showed up I installed it with the old CAD cell after checking it and going through the other voltage and resistance checks from the Riello troubleshooting chart. I bumped up the thermostat a few degrees and turned the furnace back on, then watched as it went all the way up to ignition, but cut out immediately after lighting. It would reignite every five seconds or so without locking out, but would never stay lit. I've posted a video to youtube just to make sure I'm not describing it incorrectly: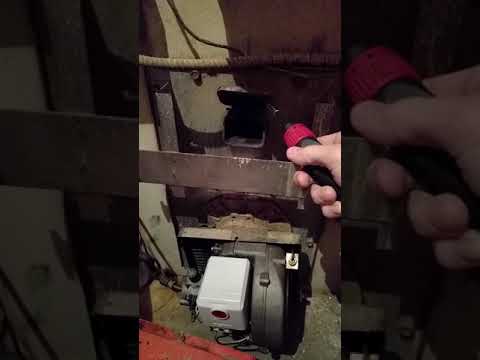 Nothing in this system has changed that I could point to as a cause. Everything seems to check out when going through the troubleshooting chart. I'm used to being able to figure things out for the most part and an oil burner doesn't seem like rocket science (although I know that experience counts for a lot) but I'm at a loss here. Does anybody recognize these symptoms or have an idea of something else to check, or should I just suck it up and call in for service?
Thanks,
Mike
Comments