Welcome! Here are the website rules, as well as some tips for using this forum.

Need a flush cart?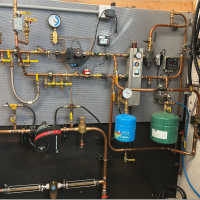 Not really a cart, more of a hand carry. Holds fluid in the tank "bowl" 1/2 HP stainless Grundfos sump pump. Barely used.

This has a flow reversal valve also, flush from two directions. Metric hose connections would need some adapting, or connect onto the hose barb fittings included.

$375.00 plus shipping. It is fairly heavy, about 35lbs.

$25.00 goes to the HH Wall.
Bob "hot rod" Rohr
trainer for Caleffi NA
Living the hydronic dream