Welcome! Here are the website rules, as well as some tips for using this forum.

L.P. burner in deep fryer sooting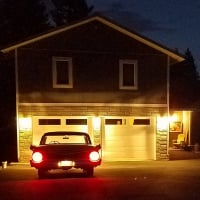 Went to order pizza at a local mom&pop yesturday (that I also do some work at) and as I was waiting for it to cook the owner asked me to check out their new fryer. Unit is an Imperial 1F-S-40.

Old one caught fire and was electric. Gas company installed this new one 3 weeks ago.

She asked if flames from the chimney were normal, as I noticed heavy sooting there as well. Classic NG not converted to LP I thought....those slobs didn't catch that? It was slow, so I opened up the access door and turned up the thermostat, to a nice woooosh and big lazy yellow flame. Data plate stamped LPG and LPG stickers on gas piping... factory screw up?

Well I returned today with the work van armed with the tools to get to the bottom of this. Manifold pressure per data plate 11"wc, and #51 orfaces for L.P. also the millivolt pilot was quite large, but no yellow tipping. Set everything to data plate spec, cleaned the soot out of HX, and still very lazy flame. What am I missing here? Could the wrong gas valve be installed? I played around and set the manifold pressure to 5"wc and still yellow sooty flame. Also set incoming gas pressure to 11.5"wc, and turned down pilot to normal size.

The burners were the same for both NG and LP, with no air adjustments. What am I missing? Calling Imperial tomorrow for parts verification.
Serving Northern Maine HVAC & Controls. I burn wood, it smells good!
Comments