Welcome! Here are the website rules, as well as some tips for using this forum.

foam insulation block for pumps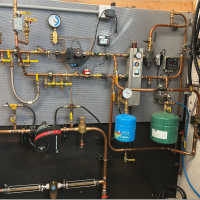 It is tough to do a nice insulation detail on pumps, and for chilled water they need to be air tight.
I use Kaizen www.kaizeninserts.com foam to build product display cases and line my tool boxes.. Blank sheets on Amazon also. It is built like an onion, you cut and peel away layers, very easy to build custom shapes in it with an Exacto knife.
I had a small scrap piece to practice, I heated a pump volute and put it onto the foam to rely a perfect shape. It worked without burning any paint on the pump, just remove the motor first
Here is my product case example also.
Bob "hot rod" Rohr
trainer for Caleffi NA
Living the hydronic dream
Comments