Welcome! Here are the website rules, as well as some tips for using this forum.

DHW recirculation, what you need to know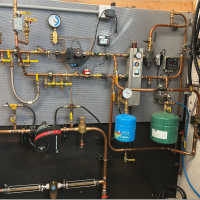 Of all the topics I cover in my trainings DHW recirculation often gets the most questions. Questions mainly about temperature control when thermostatic mix valves are added to the "mix"
It is also one of the most viewed webinars on our You Tube channel. Julius Ballanco presented a DHW recirc webinar for us back in July 2011.
So we addressed the options, glitch and fix in the latest idronics 21. Our next webinar in July Coffee with Caleffi will be on this topic with Siggy as the presenter.
Look for the hard copy of Idronics 21 if you are on the mailing list, in a few weeks. In the mean time here is the pdf to enjoy.
https://www.caleffi.com/sites/default/files/coll_attach_file/idronics_21_na.pdf
Bob "hot rod" Rohr
trainer for Caleffi NA
Living the hydronic dream
Comments