Welcome! Here are the website rules, as well as some tips for using this forum.

-63F outside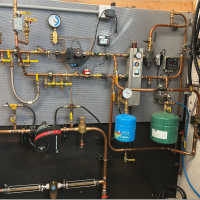 As I flew in to Reno on Monday at 36,000 feet the temperature on the monitor screens in the seat indicated altitude, temperature, and speed.
By weeks end I witnessed 170F water temperature coming out of the ground from a 4400 foot geo well at the Peppermill. Talk about a delta T.
We were able to get a tour of the central plant at the Peppermill. A few years back the owners took a million dollar gamble to drill into a geo thermal aquifer. They had hoped to reach a 200 degree aquifer to generate power and use the thermal. At 4400 they hit a 174 temperature. Most of the heating and DHW for the 2000 room facility, pools and snowmelt is supplied from the well.
It was pumping 800 gpm yesterday, at full load they can pump 1200 gpm. Here is some of the equipment.
The cooling is via several 800 and 1200 ton Trane chillers. Cat gen sets are for back up, but will not handle heating or cooling loads. A row of Clever Brooks 24 million Btu boilers cover all the load if the well is down
The geo well pump hangs at the 400 foot level in the well, a 400 hp pump runs at demand loads to flow back into the reinjection well. That pump was bypassed under the lower 800 gpm flows. Allegedly the system paid out in the first 3 years.
They seemed very open to taking tours if you are ever in the area, that is rare these days, most facilities require security passes.
The Reno area has a number of Geo supplied power generation stations. On my next visit I hop to tour a few
Bob "hot rod" Rohr
trainer for Caleffi NA
Living the hydronic dream
Comments