Welcome! Here are the website rules, as well as some tips for using this forum.

Hackathon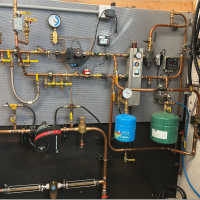 My son Max attended this Hackathon this weekend in Louisville. He attended as a sponsor this time and didn't get involved in a build.
https://cocreate.firstbuild.com/JBerg/hackathon-future-of-cooking/entries/
Basically you show up with a team, or assemble a team when you arrive. Your name badge indicates your expertise, programmer, engineer, designer, maker, etc.
You have access to all the high tech tools and staff technicians to help build your invention or idea. GE is behind this Hack and it is mainly appliances. If the product makes it to the market somehow you get royalties for a few years.
We need to get some of these going for the HVAC industry.
Makerspace is the concept, they are popping up all over. Some are memberships like a gym. You have access to all the equipment, tools and knowledge base of the other members. You and pay for the supplies you use.
makerspace.com
Bob "hot rod" Rohr
trainer for Caleffi NA
Living the hydronic dream
Comments