Welcome! Here are the website rules, as well as some tips for using this forum.

Viega FostaPex and compression style fittings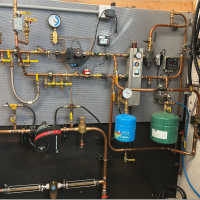 I have been using then Caleffi Universal pex fitting with Viega Fostapex successfully for about 8 years now.

You need to strip back the outer layer far enough for the blue, segmented compression ferrule to slide over the tube and have a small amount of tube protruding.

A slight modification to the Viega strip tool allows this to work. I removed the blade and drilled another hole, sliding the blade forward to allow the blade to strip the aluminum layer about 3mm deeper.

Unique about the Caleffi pex fitting is the insert brass that goes inside the tube has a double o-ring seal and a slight taper, so it slides inside the tube tightly and corrects any ID out of tolerance, or slightly ovaled tube.

Also a flat, captive, composite washer inside the insert prevents electrolysis, where the aluminum layer could contact the brass insert fitting if PAP tube with then internal aluminum layer is used.

The outer seal, to the manifold port is made with both a "nose" o-ring and brass taper.

Invest in the "flare nut" style box wrench which allows you to tighten them onto the tightly spaced manifold ports without marking up the brass nut, or filling the air with colorful language often heard when using a slip joint pliers.
Bob "hot rod" Rohr
trainer for Caleffi NA
Living the hydronic dream
Comments